Part fits the following years1974
Front End Rebuild Kits
Fits 1974 Chevelle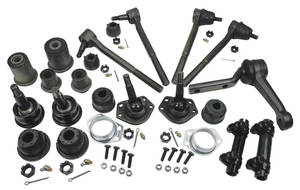 Illustrative Only
Tap to Enlarge
The world's finest—top-of-the-line.
Most complete kits to be found anywhere. Manufactured and assembled exclusively for OPGI. Used by world-class racers for more than 30 years.
IMPORTANT INFORMATION: At OPGI, we offer top-of-the line Moog brand kits. With over 30 years experience in the Racing, Moog has proven itself as an industry leader when it comes to suspension components and kits. Moog ball joints offer an innovative "gusher bearing" technology (providing a unique bearing lubrication system), casehardened steel components, with a yellow zinc dichromate coating. All of this adds up to world-class quality. Moog kits also feature "Problem Solver" suspension bushings. The main function of the suspension bushing is to dampen unwanted noise and vibration from tires and the road surface. Moog's bushings have been specially designed with a uniquely formulated elastomer that provides superior damping and suspension control over your original equipment bushings. There are many reasons to upgrade to Moog, including better vibration and noise control, increased control over suspension movement (allowing for improved handling and extended tire life) and increased service life. Moog components exceed all OEM design specifications and quality, ensuring you a premium upgrade when it comes to your suspension rebuild kits. All Federal Mogul/Moog suspension components carry a limited lifetime warranty. Warranty is subject to proper installation and normal driving conditions. Warranty is not applicable to any off-road or race vehicles.
COMPLETE KIT INCLUDES: Upper and lower ball joints Inner and outer tie rod ends Idler arm assembly Upper and lower control arm bushings Adjustment sleeves.
"Round" and "Oval" refers to the type of lower rear control arm bushings.
Part# 535415 is 1.420 diameter front, 1.670 diameter rear.
These high-performance items are not eligible for any further discounts or promotional pricing.
WARNING:
This product can expose you to chemicals including lead, sulfur, nickel, chromium, vanadium, titanium, polyvinyl chloride, and 4,4'-methylenebis (2-chloroaniline), which are known to the State of California to cause cancer and birth defects or other reproductive harm. For more information go to
www.P65Warnings.ca.gov
.
If you see this, please contact your IT department and ask them to unblock
www.opgi-static.com