Edelbrock
Intake Manifold, Performer (EGR)
Fits 1972-77 Chevelle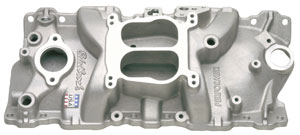 Tap to Enlarge
Idle-5500 rpm.
Designed for street 302-400 small-blocks. Part# M980001 is a stock replacement/street legal part for 1966-72 302, 327 and 350 V8's with OEM or Edelbrock emissions-legal 4-BBL carburetors. Part# M980002 is for 1972-77 305, 350 and 400 V8's equipped with EGR and either an OEM or an Edelbrock emissions-legal 4-BBL carburetors. Available with a satin aluminum finish.
These high-performance items are not eligible for any further discounts or promotional pricing.
WARNING:
This product can expose you to chemicals including lead, sulfur, nickel, chromium, vanadium, titanium, polyvinyl chloride, and 4,4'-methylenebis (2-chloroaniline), which are known to the State of California to cause cancer and birth defects or other reproductive harm. For more information go to
www.P65Warnings.ca.gov
.
If you see this, please contact your IT department and ask them to unblock
www.opgi-static.com