Nu-Relics
Power Window Kit (Front & Rear Window) coupe & convertible
Fits 1971-72 Chevelle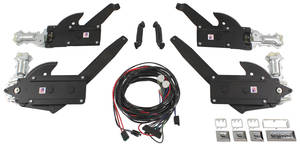 Tap to Enlarge
'64-72 Chevelle.
Front and rear window switch assemblies.
This is a direct bolt-in, model specific, power window assembly that converts manual windows over to power. It comes with regulators made of 1018 cold-roll steel for strength and durability, Delco motors, brass thrust bearings, switches, conduit and wiring. Gears have been treated for long life. Assembly carries a lifetime warranty.
Does not include window guides.
SHIP NOTE: All drop-shipped orders must be prepaid. Rates vary depending upon weight.
WARNING:
This product can expose you to chemicals including lead, sulfur, nickel, chromium, vanadium, titanium, polyvinyl chloride, and 4,4'-methylenebis (2-chloroaniline), which are known to the State of California to cause cancer and birth defects or other reproductive harm. For more information go to
www.P65Warnings.ca.gov
.
If you see this, please contact your IT department and ask them to unblock
www.opgi-static.com