Part fits the following years1968
PUI
Seat Upholstery, 1968 Parisienne split bench w/coupe rear
Fits 1968 Bonneville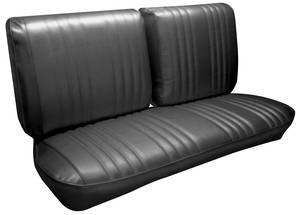 Illustrative Only
Tap to Enlarge

Be the First to Review
'68 Parisienne.
Our premium reproduction seat upholstery is ideal for any interior restoration. The upholstery is manufactured using top-of-the-line Madrid grain vinyl and features professionally stitched seams as well as the correct vertical pleated pattern. Satisfaction guaranteed!.
Our seat upholstery has been reproduced to factory specifications for fit and finish. The thick Madrid grain vinyl and fabric-backed foam are professionally sewn together to provide the look and feel of original GM seats. Correctly patterned vertical pleats enhance the original appearance of this upholstery. Upholstery is available for individual seats or in convenient front and rear kits.
COLORS AVAILABLE: Black, ivy gold, light aqua, light blue, medium blue, pearl or red.
Does not include seat foam or frames.
Not available for any further discounts.
WARNING:
This product can expose you to chemicals including lead, sulfur, nickel, chromium, vanadium, titanium, polyvinyl chloride, and 4,4'-methylenebis (2-chloroaniline), which are known to the State of California to cause cancer and birth defects or other reproductive harm. For more information go to
www.P65Warnings.ca.gov
.
If you see this, please contact your IT department and ask them to unblock
www.opgi-static.com